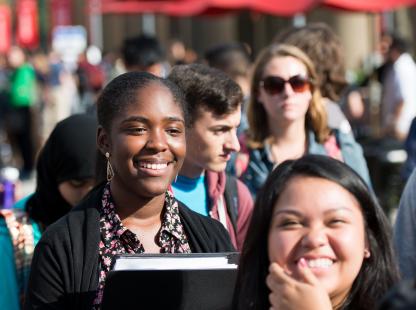 Chat Advising
Peer advisors are usually available to answer questions via chat from 9:00am to 12:00pm and 1:00pm to 4:00pm on business days during the fall and spring semesters. If you see an "Enter your name" prompt below, then you know a PA is online -- go ahead and chat! Enter your full name and UCID to get started. (Note: The frame below may be blank in Safari on OSX. Please use another browser while we investigate a solution.)
Some things to remember about chat advising:
Peer Advisors do not have access to your records or transcript. If you want help choosing classes or have questions about DegreeWorks, you may need to have a .pdf copy of your information ready to send to the advisor.
We may be helping a few students at once - we appreciate your patience!
No chatting in class!
---
Walk-in Advising
There are two different ways to receive academic advising on a walk-in basis during the fall semester.
Peer Advising: Peer advisors are available to assist undergraduate students with course selection, major and minor exploration, and other general questions.
Walk-in Wednesdays: Academic advisors will be available for quick consultations (five minutes or less) on Wednesday mornings and early afternoon. Any in-depth discussions should be saved for an individual appointment.
Registration Walk-in Information
From March 28th to April 15th, all advising will be conducted on a first-come, first-served walk-in basis only. See the schedule below for walk-in hours.
When you arrive for walk-in advising, please be prepared to briefly describe your question to the office assistant. He or she will assign you to either a peer advisor or an academic advisor, and ask you to wait until your name is called.
We will do our best to assist as many students as possible but, due to the volume of expected visitors, some wait time may be unavoidable. Thank you in advance for your patience!
Walk-in Calendar (Monday, March 28th to Friday, April 15th)
|   | Monday | Tuesday | Wednesday | Thursday | Friday |
| --- | --- | --- | --- | --- | --- |
| 9:00 - 12:30 | OPEN | OPEN | OPEN | OPEN | OPEN |
| 12:30 - 4:00 | OPEN | OPEN | OPEN | OPEN | CLOSED |
End Registration Walk-in Information
Academic Advising Appointments
If you would like to make an appointment with your assigned academic advisor, please do so via the link below. Appointments can be made up to one week in advance. If your advisor does not have availability, it means all appointments for the next week are currently booked - please check back at a later date for new openings.
---
Forms
Frequently Used Forms: Undergraduate
Frequently Used Forms: Graduate
You can find more forms on the Registrar's
website
.
Please do not schedule an appointment with your advisor to have a form signed.
All forms requiring an academic advisor's signature should be printed out and given to the Office Assistant in the CC Advising Center. CC Advisors do not accept forms requiring a signature via email.
Please ensure all necessary fields are completed before coming to the office.  If there is any additional information that your academic advisor will need in order to complete their portion of the form, please attach a note with that information.  Forms missing required information will be returned to you without your advisor's signature. 
---
| | |
| --- | --- |
| Form dropped off by 12:00 pm on: | Will be ready for pickup by 9:00 am on: |
| Monday | Wednesday |
| Tuesday | Wednesday |
| Wednesday | Friday |
| Thursday | Friday |
| Friday | Monday |
Please note:
Graduation Applications will not be returned to you - they will be sent directly to the Registrar by your advisor.
Forms which are not picked up within 1 week of completion will be discarded.
-->